US Housing & Housing Finance
The Future for Foreclosures and Mortgage Performance
Part of US Housing & Housing Finance
After a long and unprecedented period of payment suspensions and foreclosure bans, housing obligations are resuming for many borrowers, and mortgage liquidations are picking up.
Join our analysts from the Financial Institutions and Structured Finance teams who will offer our insights on what's ahead, and why things after this crisis will differ from conditions after the last housing-sparked recession.


Agenda

Home Price Boom Market and Solid Job Market Limits Risks as Unprecedented Forbearance Passes

Despite the severity of the pandemic and its impacts on mortgage performance, losses will likely be tame, reflecting positive factors from the introduction and carefully considered unwinding of forbearance programs, to soaring home prices and the relatively quick, if still incomplete, rebound in employment. Furthermore, although the stock of unresolved loans presents some risk to the housing market, the number of likely foreclosures and supply-demand conditions suggest the threat should be manageable.

Specific topics include

What we expect to drive mortgage portfolio performance at financial institutions during the next phase of the pandemic-era
How US RMBS have been affected by forbearance programs and foreclosure moratoriums, and potential implications of structural features as performance evolves
How we expect housing market and economic conditions and the unwinding of borrower relief to interact with each other

Speakers

Jody Shenn

Vice President - Senior Analyst, Structured Finance Group

Moody's Investors Service

Florence Zeman

Associate Managing Director, US Public Finance

Moody's Investors Service

Karandeep Bains

Associate Managing Director, US RMBS

Moody's Investors Service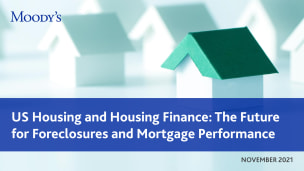 US Housing and Housing Finance: The Future for Foreclosures and Mortgage Performance
An error occurred trying to play the stream. Please reload the page and try again.
Close
Please sign in to your account: